In our appartment is a small storage room. It's roughly above 2 meters each direction so you can easily fit a bed into it, but not much else. And it was no windows, so there's no natural light or additional ventilation other than fan and open door. This has from time to time served as my office, actual storageroom or guestroom for a certain Australian guest who needed a place to stay over Christmas. In the ten years we've lived here this is the room we never did anything to as we mostly never seemed to have a good plan or the energy.
But Australian houseguest moved up west eventually and I started planning on using the room as a full time office. But in order to do so, I needed to be of better quality. Better lighting, nicer wallpaper and decent floors and so on.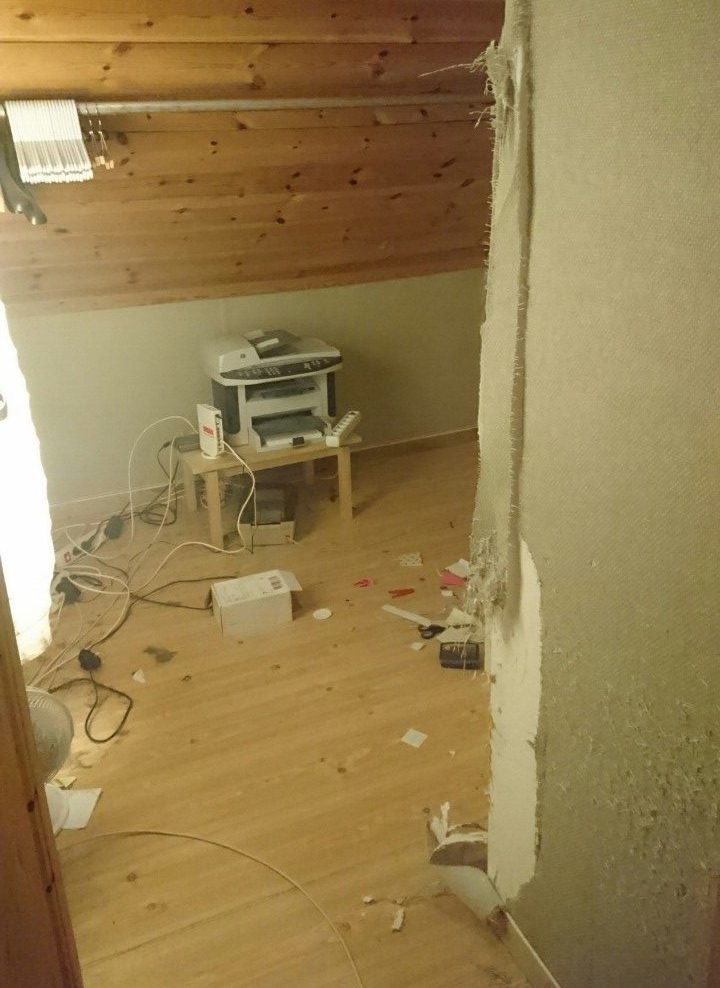 So I cleared the room during a touch of influenza and told myself that I would go at a comfortable pace so I wouldnt overwork myself and get bedridden for the next three weeks. Well, I almost got bedridden for the next three weeks, but luckily I also finished the office in time before that happened.
First of all I needed a theme or a colourpalette. I wanted it to be girly. I don't do things that are typically girly. I don't necessarily like the colour pink, I don't wear a lot of jewelry, I still don't know how make up work and all that stuff, so I wanted to make something that was supergirly in all it's Barbie power.
How the hell I ended up with grey and silver is beyond me, but whatever.
I found a really nice damask wallpaper on Ebay for just £9 per roll. I bought two in the horrible misinformation it would be enough for such a small space. I was wrong.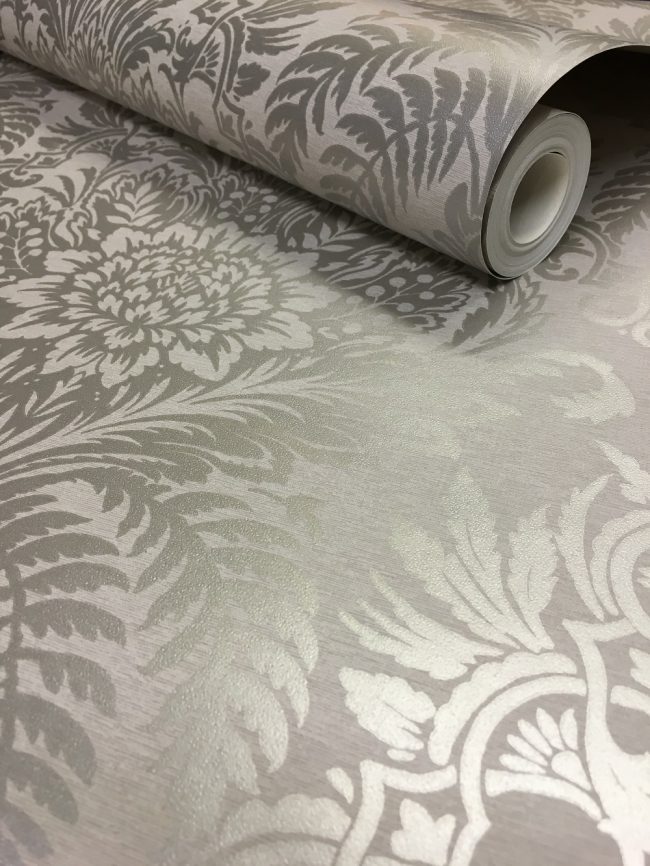 But I loved the pattern and I liked the light shimmer it gave and all that good stuff, so we put the wallpaper up on the two walls I would be facing when sitting infront of my desk.
The walls behind me would be painted in a medium grey, supermatt, no shimmer here.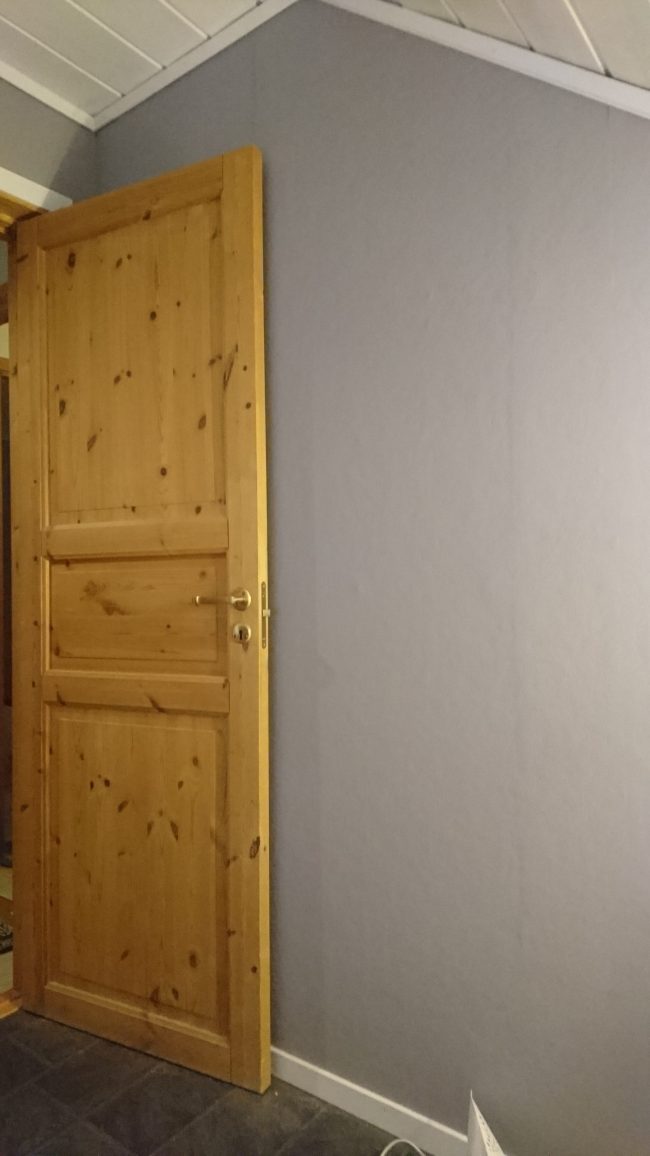 The corkboard I already had, but I painted it in the same paint as the walls and made a fancy wolf made from leftover scraps of the wallpaper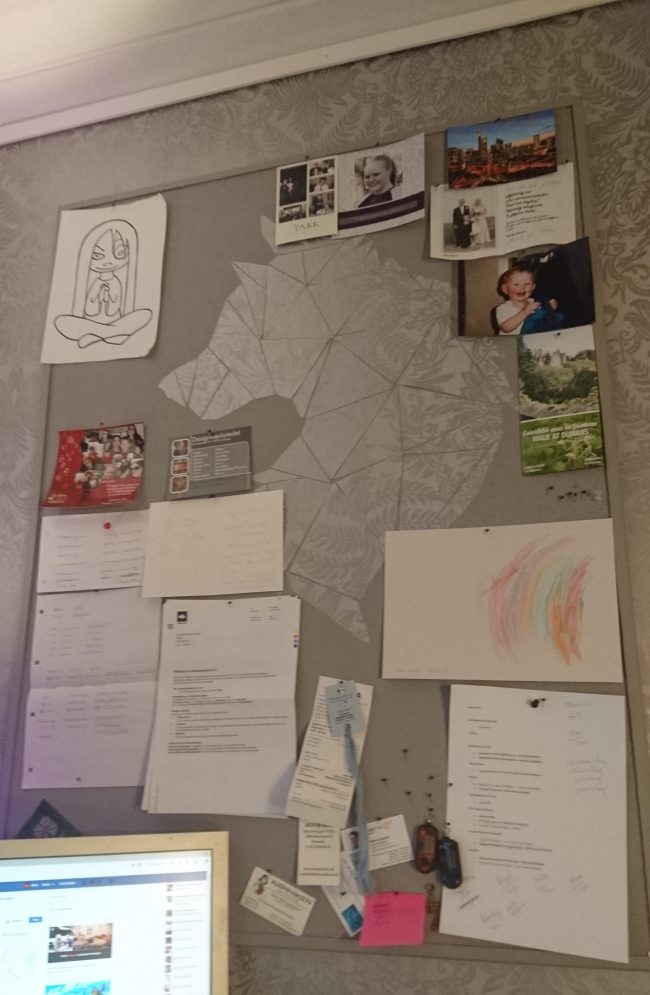 The furniture I bought on Ikea, the most expensive thing was actually the chair, which is indeed white. My plan changed from Crack-Barbie to "I'll just use LED lights to set the mood" so it was important that I got as light coloured furniture as possible, preferably glossy, so they would reflect the LED lights I put everywhere.
And I couldn't be happier!